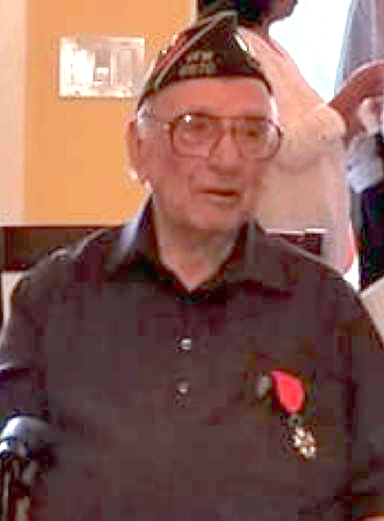 Post 8870 member Fred Diedrich received the French Legion of Honor from the French Consulate on Friday September 27 in recognition of his service in France in World War II.
Fred was assigned to the 508th Parachute Infantry Regiment (Red Devil's). who with other paratroopers, parachuted into Normandy several hours ahead of the storming of the beaches on "D Day" in June of 1944. Their immediate objective was to capture the town of Sainte-Mere Eglise and then to secure crossings at the Merderet laFiere and Chef-du-Pont Rivers. Like most paratroop units that participated in Operation Overlord, they were dropped at wrong locations and experienced difficulty in linking up with each other as planned. Despite huge obstacles, Fred and his unit remained in contact with the Germans until being relieved in early July.
They then participated in Operation Market Garden, an Allied effort to shorten the war by seizing control of strategically located bridges leading to Germany. On 17 September 1944, Fred's Regiment jumped into Holland with orders to seize control of the Nijmegen Bridge. After securing the bridge at Nijmegen and engaging the Germans for six weeks, the Red Devils moved south to the Ardennes and combat operations in the Battle of the Bulge. Fred participated in the defense of St. Vith. They successfully defended the city and delayed the German advance until mid-December when the unit was ordered to fall back.