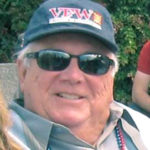 At the July Post meeting, Ron Clyborne, pictured at left during the 2016 Independence Day Parade, Chair of the Plaza Committee, gave us an update on our new Edmonds Veterans Plaza. As of the date of our July meeting, funding pledges exceeded $500,000, well over our initial funding goal of $420,000.
The committee has decided to add an interactive Veterans Service Kiosk at the Plaza. This Kiosk will be a device similar to an ATM, the purpose of which will be to allow veterans visiting the plaza to access Veterans services information on site.
A delay in the bidding process has pushed out the projected dedication date beyond Jan 1, 2017. The committee will keep us informed as the completion/dedication dates solidify.