by Mike Denton
Sea Power

The History and Geopolitics of the World's Oceans
by Admiral James Stavridis (USN Ret'd)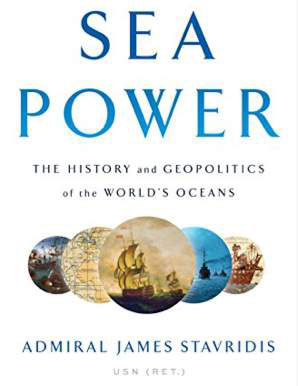 The subtitle of the books tells us a great deal about it's content, in that Admiral Stavridis examines in great but interesting detail the military/ naval history of every ocean on the planet and the influence of those large bodies of water on ecomomies and politics throughout human history.
Stavridis, the only Naval officer to ever serve as Supreme Allied Commander of NATO, spent much of his early career as a Surface Warfare Officer (What we non aviation types think of as the real Navy) in destroyers and cruisers and seems to have taken maximum advantage of the opportunity to cruise the oceans of the world, and acquire a broad sense of how the oceans impact our lives.
Stavridis examines the world ocean by ocean, from the Mediteranean to the Arctic and everything in between. Most of us, I think, know little about the history of the worlds coastal (or "Littoral, a word of which he seems inordinately fond) peoples prior to the voyages of Columbus and the early Portugese explorers, but the Admiral gives us a good look at the early sailors of all of the world's major civilizations and some not so major.
Other reviewers comments: "…knows his maritime history, but equally important is his firsthand knowledge of the seas. He vividly relates what it felt like as a young naval officer taking a boat through the Panama Canal or the Torres Strait between Australia and New Guinea, and he adds personal authority to his more general points about the different bodies of water…A highly readable, instructive look at the role of the oceans in our civilization, past and present." —Kirkus Reviews (starred)
"Fellow Admiral Jim Stavridis spent nearly four decades as a US Navy Sailor, and is well known as an important geopolitical thinker. In Sea Power both of those attributes come together in creating a must read for anyone seriously thinking about the world's challenges in the 21st century." —Admiral Bill McRaven, USN (Ret.), Chancellor, The University of Texas System and former Commander, U.S. Special Operations Command