We will drape our charter at the February Post meeting in honor of the passing of two of our Life Members. Rest in peace Comrades.

Joseph (Ski) Kuchinski

Post 8870 member Joseph Kuchinski passed away on December 31, 2017. Joseph was born in Moosic, PA August 13, 1929 to Henry Sr. and Cecelia Kuchinski. He was preceded in death by his parents and brothers, Henry Jr. and Vincent Kuchinski. "Ski, as he was he was affectionately known, enlisted in the Navy in 1948. He defended our freedom with honor and pride for 30 years in which he served in both the Korean and Vietnam wars. He was a proud member of the Knights of Columbus and VFW post 8870. A devoted member of Holy Rosary Church in Edmonds. Ski is survived by wife, Wanda, of 57 years; sister, Dorothy; daughters, Angela Kuchinski, Trina Myers, Lisa Beavin (Ron) and son, David Kuchinski; grandchildren, Bryce, Mckenzie, Breeahna, Lereana, Ryan, Kyle, Jamie and three great grand children. Services were held at Tahoma National Cemetery, January 26, 2018.
Richard Clyde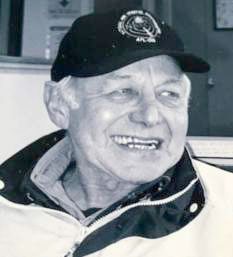 Richard Clyde , World War II Veteran and Life Member of VFW Post 8870 died January 24, 2018 at age 92 in his home town of Langley, on Whidbey Island.
The Clyde name is ubiquitous in Langley. There's Clyde Alley and Clyde Road. The famous Clyde Theatre, built in 1937, still shows movies. Clyde Motors was once adjacent to the theater at the corner of First and Anthes.
Richard grew up in Langley during the Great Depression. He worked at the family garage in high school and frequently ran the projector at the theater. Richard went back to work in his father's garage after he returned from World War II. He eventually bought the business in 1954.