Mission: Redeem Homeless Veterans from the streets of our communities, and assist Veterans for their Total Recovery, regardless of time.
RD=5030 Veterans Affairs Task Force Committee is a joint partnership with Rotarians, Veteran Service Organizations, Local Government, Health Experts and Citizen-Patriots who wish to improve the quality of life for US Veterans and their families. We will speak out on veterans' issues and influence public policy to positively resolve an important community crises affecting all in our society.
We would like to invite interested Rotarians to participate in this new Partnership Task Force. Please, RSVP to reserve your seat as soon as possible.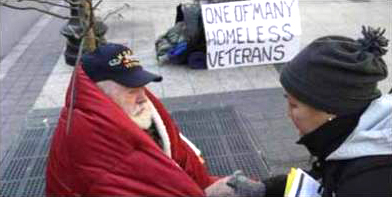 RD-5030 Veterans Affair Task Force Committee meeting:
Wednesday, February 22, 2017
7-9 pm
Shoreline Community College
Student Union Building (SUB) Small Dining Room
Address: 16101 Greenwood Ave N, Shoreline, WA 98133
For additional information, please, contact Committee Chair: Army Veteran Raymond W. Coffey, Shoreline Rotary Club via phone: 206-510-8428 and/or email: rwLJ3coffey@gmail.com
Note: Several of our comrades in Post 8870 are active Rotarians. Our Post expects to have a representative at the Feb 22 event.