Post 8870 Honors the Fallen 
Once again, as has been our tradition (with our comrades of American Legion Post 66), Edmonds VFW Post 8870 was the core of the Memorial Day ceremonies at the Edmonds Memorial Cemetery. The focus of this year's ceremonies was the service and sacrifice of our Post 9/11 veterans.
The Post Color Guard, led by Jr. Vice Commander Rose Gilliland, paraded to the flag pole, whereupon American Legion Post 66 Commander Jim Collins and VFW Post 8870 Commander Mike Denton hoisted the colors with the assistance of Les Abel. Dick Simmons once again organized the color guard.
Past Commander Jim Blossey provided the White Table Ceremony; Sr. Vice Commander Carl Kurfess and Jr. Vice Commander Rose Gilliland the conducted Ship's Bell ceremony at which the names of those fallen Post 9/11 were read. Chris Edwards spoke to the crowd of his experience in post Iraq/Afgnanistan deployments.
The program ended with a rifle salute by the Washington National Honor Guard – Camp Murray and Taps by our own 1st Sgt Chris Edwards.
Present Arms! 
Members of the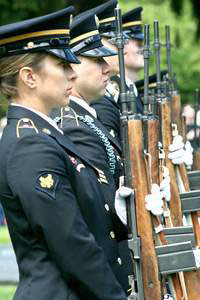 Washington National Guard Honor Guard present arms at the presentation of the colors, as do VFW Post 8870 members Norm Goldstein and Amos Chapman, with Past Commander Terry Crabtree in the background.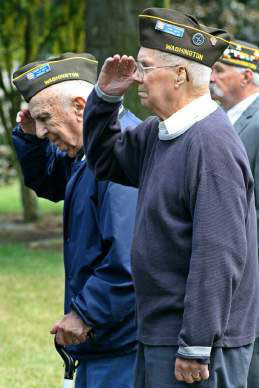 ---
Photos courtesy My Edmonds News