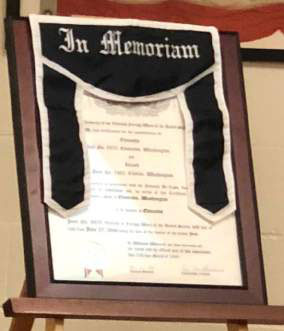 For the second time this year, the post draped its Charter at the February meeting. This time we honored the memory of three of our Post comrades:
Joseph Kuchinski, A Navy veteran of Korea and Vietnam, who died in December and was buried at Mt. Tahoma on Jan. 26.
Richard Clyde, Life Member and WWII Veteran died January 24 at his home in Langley on Whidbey Island.
Earl Prebezac, Army Veteran of WWII died Feb 9 at the age of 94 and was buried at Mt. Tahoma on February 21.
Obituaries for Comrades Kuchinski and Clyde appeared in the Feb. Post newsletter. Comrade Prebezac's obituary can be found elsewhere in this newsletter.