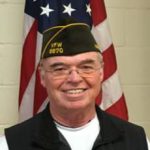 by Chaplain Dan Doyle
To say that war is hell is merely an aphorism, but to have lived through that hell is another thing altogether. To come back from that hell and to try to get back into the everyday realities of civilian life while still bearing the unhealed external and internal scars of that hell is more difficult than most can understand. It is important here to remember that all wounds are capable of being healed, if the proper conditions are offered. Currently we are experiencing an epidemic of veteran suicides. On average, 22 of our veterans are committing suicide each day.  Why is this happening? What is being done about it? I have written a series of two articles on this topic, which have just been published on my blog for theveteranssite.com.
[ed. note: Recent statistics on total suicides in the US show approximately 18% (based on the 22 per day quoted above) are veterans, a number far above the approximately 7% percent of the population veterans represent]
I have been writing for theveteranssite.com for the last seven years. The site raises money to feed homeless veterans, and offers lots of valuable veteran information. You can reach the site by going to theveteranssite.com. There is a blue "free" donation button on the homepage and, by clicking on that button, you generate funds from corporate sponsors, 100% of which goes to various organizations around the country that provide meals for homeless veterans. On the menu line of the homepage, second from the left, you will see the words "videos and stories," click on that and a drop down menu appears. Click on "Notes from a Veteran" and that will take you to my blog. You will find the articles mentioned above, as well as many of the other articles I have written over the last few years.
Following is a direct link to the first of Dan's two articles:
http://blog.theveteranssite.com/veteran-treatment/
Dan Doyle is a Vietam veteran who served as a Navy Corpsman with the Marine Corps.