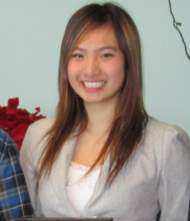 Katarina Nguyen is a talented young lady who was a three-time winner of the Patriot Pen contest while in Middle School, and won first-place honors in the Voice of Democracy for all four years of high school. She read her winning essays at Post meetings as well as the Memorial Day Ceremony. During her senior year, Katarina was awarded a Freedom Scholarship. She recently wrote to the Post to express her appreciation for what her involvement in VFW sponsored programs has meant to her.  

Dear VFW 8870, My name is Katarina Nguyen, a graduate from Edmonds Woodway High School in 2012. Throughout high school, I was highly involved with the VFW because I felt it was important for the younger generation to honor the Veterans that have made our freedoms possible. I would like to reach out and thank each and every one of you for your sacrifices to preserve our country's freedom and thank you for encouraging me and allowing me to share your stories. It's been a few years but I would like to reach out and thank you for helping shape my experiences during high school. It was an honor to speak at Memorial Day ceremonies each year as well as read my essays at your meetings. Because of you, our generation is able to enjoy the freedoms and opportunities we share and as a proud American, I sincerely thank you for all you have done.
Since graduating high school, I graduated college from Johns Hopkins University in 3 years and am currently Miss Washington Earth United States. I will compete for the national title of Miss Earth United States this summer and will attend medical school this fall. I was inspired to give back to the community by all of your sacrifices; although I cannot even begin to fathom the adversities you have endured for us, you have inspired me and motivated me to give back. You are selfless, brave heroes and to this day, when anyone asks me who my heroes are, I never hesitate to say that it is those that serve our country. Thank you.
Best regards,
Katarina Nguyen