On Saturday, September 21, at the Edmonds American Legion Hall, Four World War II Veteran members of Edmonds VFW Post 8870 were each awarded an individually designed and personalized "Quilt of Honor". In the photo below, are shown, L to R, Fred Deidrich, Amos Chapman, Buck Weaver and Norm Goldstein. These veterans range in age from 96 to 101 years, with Weaver being the senior. Shown with the Awardees are Gold Star Mothers Monica Mcneal and Lee Ann Prewitt Doerflinger.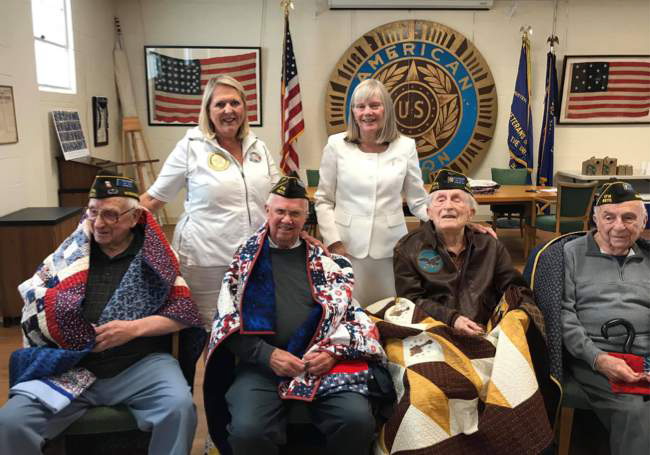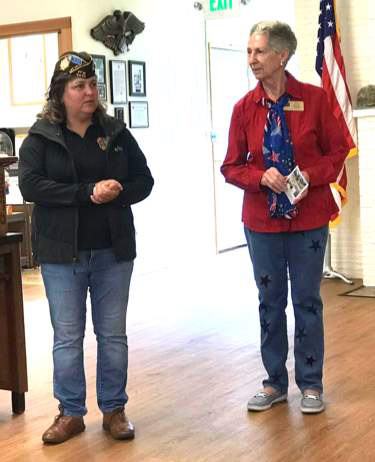 At right, Commander Rose Gilliland, with Quilts of Valor Lead Marj Woody making the presentation
Quilts of Valor Foundation History
Quilts of Valor Foundation began in 2003 with a dream, literally a dream. Founder Catherine Roberts' son Nat was deployed in Iraq. According to Catherine: The dream was as vivid as real life. "I saw a young man sitting on the side of his bed in the middle of the night, hunched over. The permeating feeling was one of utter despair. I could see his war demons clustered around, dragging him down into an emotional gutter. Then, as if viewing a movie, I saw him in the next scene wrapped in a quilt. His whole demeanor changed from one of despair to one of hope and well being. The quilt had made this dramatic change. The message of my dream was: Quilts = Healing".