A different type of Cold War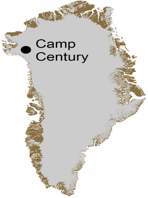 Project Iceworm was the code name for a top-secret United States Army program during the Cold War to build a network of mobile nuclear missile launch sites under the Greenland ice sheet. The ultimate objective of placing medium-range missiles under the ice — close enough to strike targets within the Soviet Union — was kept secret from the Danish government. To study the feasibility of working under the ice, a highly publicized "cover" project, known as Camp Century, was launched in 1960. Unsteady ice conditions within the ice sheet caused the project to be canceled in 1966.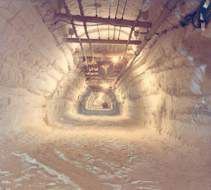 The "official purpose" of Camp Century, as explained by the United States Department of Defense to Danish government officials in 1960, was to test various construction techniques under Arctic conditions, explore practical problems with a semimobile nuclear reactor, as well as supporting scientific experiments on the icecap. A total of 21 trenches were cut and covered with arched roofs within which prefabricated buildings were erected. With a total length of 3,000 meters (1.9 mi), these tunnels also contained a hospital, a shop, a theater and a church. The total number of inhabitants was around 200. From 1960 until 1963 the electricity supply was provided by means of the world's first mobile/portable nuclear reactor, designated the PM-2A and designed by Alco for the U.S. Army. Water was supplied by melting glaciers and tested to determine whether germs such as the plague were present.