Our Meeting program consisted of dedication ceremonies for "Traner' s Comer", the new seating area across from the entrance to the Hall, which the late Jim Traner was instrumental in creating.
Jim worked with Charlie Gaul and his wife to arrange the acquisition of the seating for this new gathering area and the two Posts, VFW 8870 and American Legion 66 decided to name it in Jim's honor.
Joining us for the occasion were distinguished guests Terry Traner, Department of Washington Commander Craig Daugherty, and District 1 Commander Terry Stenson. Senior Vice Commander Rose Gilliland filled in for the absent Commander Duane Bowman and is seen in the first photo below introducing Terry Traner. At right, Department Commander Daugherty, holding the commemorative plaque for the dedication with Terry at his side, points outs Traners Comer in the rear of the hall.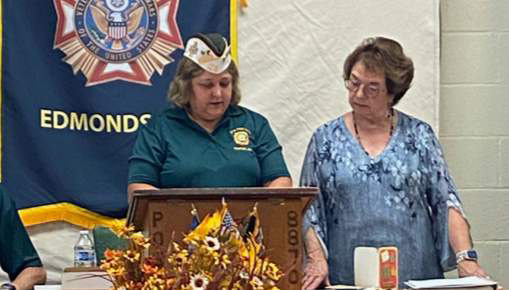 In addition to dedicating Traner's Corner, Ron Clyborne was recognized for his key role (along with Jim Traner) in the creation of the Edmonds Veterans Plaza. (See separate article with photos of the new Veterans Plaza bench to be dedicated on Veterans Day.) Ron and his wife Michelle are shown below in the new Corner. In the background are the drawing of Jim Traner which was presented to Terry and the Post by our resident artist Michael Reagan, as well as a stained glass representation of the 11th Armored Cavalry in which Jim servced in Vietnam. At right below, District 1 Commander Stenson looks on.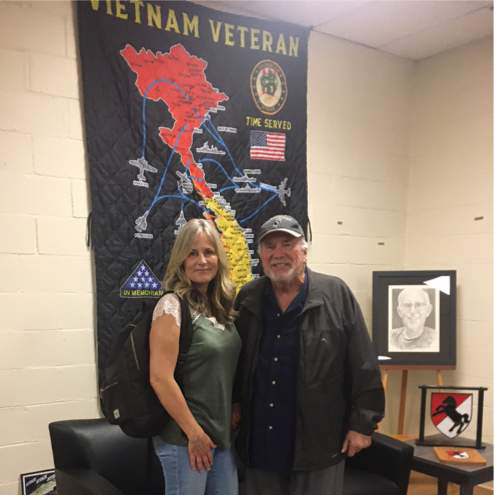 Minutes of the Post Business Meeting which began at 1815hrs.
The minutes from the September meeting were read and approved by the membership.The Quartermaster's report was reviewed and approved by the membership.
Expenditures were approved by the membership as follows:
$1,464.13 for the engraving for the memorial bench in honor of Jim Traner and Ron Clyborne.
$ 92.35 for the All American Red cover for Past Commander Carl Kurfess.The next District 1 Meeting will be at Post 2100 on 11/18/2023.
A motion was made by Fred Apgar to Name Post 8870 the Jim Traner Post 8870 in honor of all that Jim did for our Post. The motion was 2nd by Tom Hallums.
After discussion and input from several members the membership voted not to change the name of the Post. This was done mainly due to the fact that Jim had expressed to various members and family that he did not want his name to be part of the Post name. ( Or anyone else's for the that matter, ed.)
A dedication ceremony will be held at 1:00 PM on Veterans day, 11/11/2023 at the Edmonds Veterans Plaza. At that time we will dedicate a bench to honor Jim Traner and Ron Clyborne for all of the work that they did to create the Edmonds Veterans Plaza.
The next Post Meeting is scheduled for November 15, 2023.