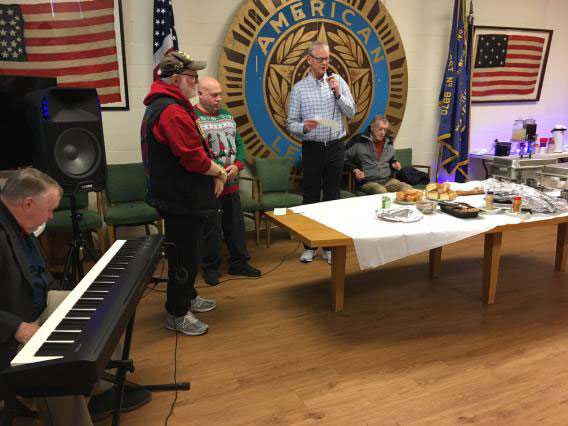 Our annual holiday get together was held on Saturday, December 17, at the Edmonds American Legion Hall. Around 50 members and guests were in attendance, a bit lighter turn-out than our normal pre-COVID affairs, but a large enough group to make it a lively party. 
The Posts provided some of the food and members brought a variety of side dishes and desserts, as well as supplementing the turkey and ham provided by the posts. The food was delicious (at least in your editor's mind) and there was certainly plenty of it.
Commanders Kurfess and Walderman opened the proceeding and then presented Mike Reagan with the two post's annual contribution to his Fallen Heroes Project. Mike has now done in excess of 8,000 portraits of fallen comrades and continues every day.
Our usual raffle was held with a variety of prizes, including copies of Mike Reagan's work and some particularly nice beverages. Background music was provided by a live performer with keyboard and accordion.
The annual toy drive was topped off at the party and those toys, added to those collected earlier at Teri's Toy Box in downtown Edmonds, were delivered the the Edmonds Food Bank toy drive for what appeared to be a record result. Well done Comrades!