Presents 2018-19 Awards
Commander Doug White Visited on the occasion of our July Post meeting to present the Post with The 2018-19 All-State Post Award (see certificate on page 2) and other certificates recognizing 8870's stellar performance for the past VFW year. In addition to the All-State certificate, Commander White presented the post with certificates representing awards in categories of 100% + Membership, Buddy Poppies, Heroes in the Ballpark, Patriots Pen, Scouting, Teacher of the Year, Veteran & Military Support, Voice of Democracy andYouth Activities. We were also recognized for nominating our Post Law Enforcement Officer of the year, Mukilteo Police Detective Nicole Stone, the winner of the Department of Washington award in that category! A Big Well Done, to the entire post for an outstanding year!

2017-19 Commander Mike Denton and Quartermaster Dennis Peterson each accept the "Whtite Cover" from District 1 Commander Doug White on behalf of the Post, in recognition of the Presentation of the All-State Award to our post.
Prior to our July Post meeting, Commander White sent out this message to all of the District 1 Posts, congratulating all for the District's achievement in the past VFW Year:
"Congratulations to every District 1 Post and Member for all of your hard work in the past 12 months. Due to your efforts in the community the District 1 team was recognized at our Department Convention with the following.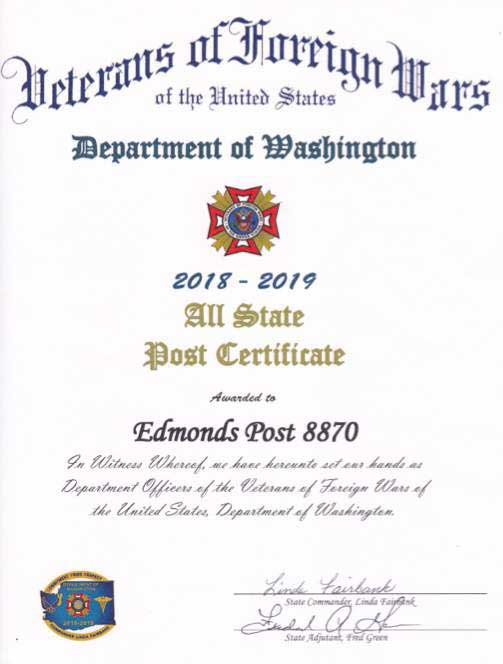 District 1 All-State District Team Captain
Post 921 All-State Post
Post 1040 All-State Post
Post 1561 All-State Post
Post 2554 All-State Post
Post 7511 All-State Post
Post 8870 All-State Post
Post 9417 All-State Post
Department of WA Firefighter of the Year via Post 921
Department of WA Police Officer of the Year via Post 8870
Department of WA 2nd place Scout of the Year via Post 7511
Thank you for everything you do in our communities. Doug"
Certificates for individual categories will be posted on the Post website under "Award Wall"