Information Kiosk Dedicated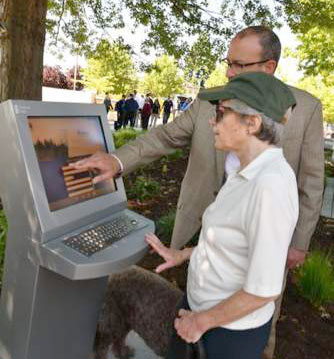 In a brief ceremony on the afternoon of Memorial Day, members of Post 8870 gathered with guests to dedicate the new Edmonds Veterans Plaza information Kiosk.
Edmonds Mayor David Earling spoke briefly about the importance of the Plaza to Edmonds veterans and the city at large, followed by comments from Veterans Plaza Chair Ron Clyborne.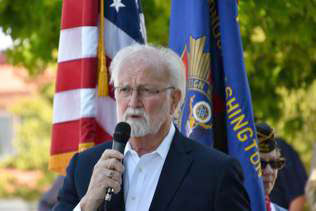 The information kiosk is designed to assist visiting veterans in sourcing a variety of benefits and assistance, by giving access from the plaza to the WAserves GreaterPuget Sound web site. Prominently displayed on the home page is the Veteran Crisis Line number  (1-800-273-8255) providing ready access to emergency assistance. The kiosk operates by touch screen, making it easy to use. Soon, it will contain a data base of the names and service information of all of the individual veterans honored in the plaza and a guide to locate the veteran's individual pavers, benches, etc. Also in planning is a cover over the kiosk to offer protection from weather, both to the equipment and the user. Stop by and take it for a test drive soon.