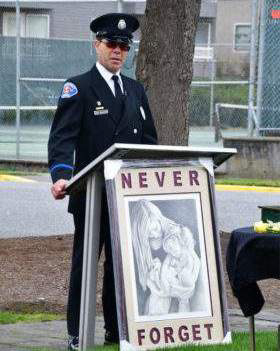 Seventeen years after terrorist attacks leveled the World Trade Center towers in New York City, many came together in downtown Edmonds Tuesday morning, Sept. 11, 2018 to remember those who lost their lives that day.
Dave "Bronco" Ericson our Fire Fighter of the year for 2019-20, who was instrumental in the creation of the Edmonds Fallen Firefighter memorial Park next to the downtown fire station, was on hand for the dedication two years ago. 
Among the more than 3,000 people who died on 9/11 were 343 firefighters, 60 police officers, and 10 EMTs. As Master of ceremonies Erickson (shown at left) recounted the heroism of the police and firefighters during that dark day in 2001. Erickson described the Edmonds 9-11 Memorial and what each part represents, including the 1-ton steel I-beam from the wreckage of the World Trade Center which stands as the memorial's centerpiece. Two stainless steel and glass panels symbolize the twin towers with 3,000 individual glass facets honoring the 3,000 who died that day.
We are proud to recognize Bronco for his years of public service as a fire fighter in our community and particularly for his critical role in the establishment of the memorial.