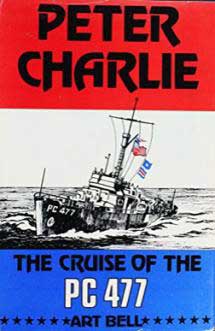 by Mike Denton
Aboard a patrol boat in World War II, chasing Japanese subs
In 1942, Art Bell was a twenty-three-year old ensign in the U.S. Navy, assigned to duty aboard the PC 477. The PCs were 173-foot, steel-hulled submarine fighters. Uncle Sam had thousands of seamen on hundreds of PCs convoying and patrolling in WWII. They were introduced in the desperate, early days of the war, when the waters off America's Atlantic coast were a graveyard of torpedoed ships. They performed essential, hazardous, and sometimes spectacular missions, yet the PCs were scarcely known at all outside the service.
Here is the story of the wartime service of one of those ships, taking the PC 477 from the Gulf Coast, through the Panama Canal and on across the South Pacific to the Solomons campaign and beyond.
The book was originally self published by Bell and is written as a memoir of his wartime experience.