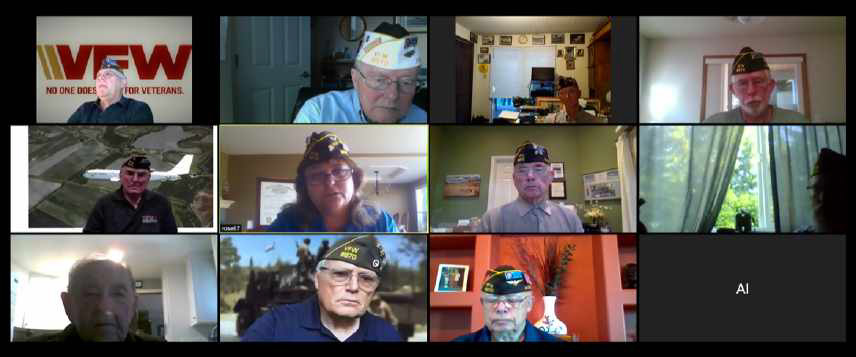 We are continuing to hold all of our regular meetings virtually, using the Zoom format. Certainly it is frustrating to be unable to gather for our usual monthly meal and business meeting, but Commander Rose Gilliland and her staff remain concerned for the health of our members and guests. Our average attendance at meetings (35-40) is such as to put the head count over the numbers suggested by health authorities for face to face gatherings and making significant "social distancing" challenging in a facility the size of the Legion Hall.
Should one of our members, no doubt unknowingly, bring the pandemic virus into the rest of the group, the relatively advanced average age of our membership could result in a very unfortunate outcome, as we have seen in other groups (not necessarily VFW) around the country. It seems we will have to continue to be patient and do our best to continue to be among those #Still Serving without in- person meetings.
We are considering options, such as combining a small group gathering at the Legion Hall, with other members joining us on Zoom according to their comfort level.
At the July meetings, we talked about some of the groups and programs we will continue to support through our Veterans Relief Committee, funded by our semi annual "Buddy Poppy" drives. Our Memorial Day "virtual" Poppy drive yielded just under $11,000 to add to the fund for 2020-21 needs. We agreed that this is sufficient funding, added to existing reserves, to allow us to continue to support all of our ongoing Relief Fund programming.
It has been suggested that the Post look at participating in the "Adopt A Unit" program to reach out with support to active duty military in the area. We are looking into this, with the present idea of adopting one of the Navy ships home ported at Naval Station Everett. Stay tuned.
Be sure to log on Zoom for the August meeting on Wednesday, Aug.19 at 6:00 pm. The meeting log in will be the same as prior meetings, but an email will be sent to the membership as a reminder. The above "screen grab" shows only those members appearing on a single screen.of those attending the July Post meeting. Note that one member, Al at lower right, is participating from an audio only connection, always an option.