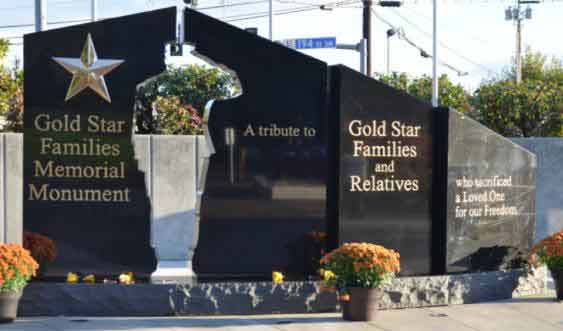 A monument dedicated to the families of fallen U.S. military members was unveiled Wednesday November 2 in Lynnwood's newly redeveloped Veterans Memorial Park.
Hundreds gathered in the park – located at 44th Avenue West and 194th Street Southwest – to witness the unveiling of the Gold Star Families Memorial Monument. During the ceremony, Lynnwood Mayor Christine Frizzell thanked the Gold Star Mothers in attendance and assured them they were not alone in their grief.
To fund the project, the Washington State American Gold Star Mothers partnered with the Hershel Woody Williams Medal of Honor Foundation, which is dedicated to honoring and paying tribute to families who have sacrificed a loved one in service of their country.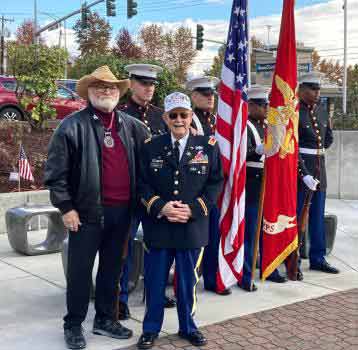 Williams was a Congressional Medal of Honor recipient from WWII who had plans to see a monument dedicated to Gold Star Families in all 50 states. Though Williams died in June of this year, his work will continue through his foundation, said speaker and U.S. Marine Corps veteran Michael Reagan.
Lynnwood's monument is unique compared to others. In addition to honoring those who were POW/MIA, it is the first monument to recognize Indigenous veterans and those who died by suicide, said keynote speaker retired Lieutenant General Mark Wise.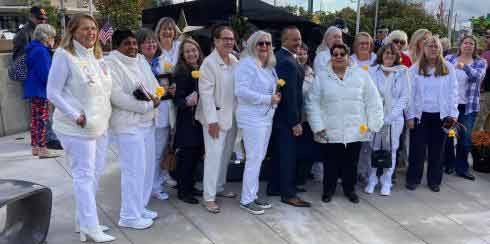 Surrounding the monument are 22 stone seats in honor of service members who died by suicide after serving in Iraq and Afghanistan. Under the monument, sand from Iwo Jima, Japan; water from Belleau Wood, France and three military challenge coins were buried in its foundation.
The monument is the 200th to be installed in the country and the third to come to Washington state. During the ceremony, Deputy Director of Washington State Department of Affairs David Puente, Jr. read a letter from Gov. Jay Inslee, who praised the Gold Star Mothers for their tireless work to bring the monument to Lynnwood.
Photos and article excepts courtesy of MyEdmondsNew.com