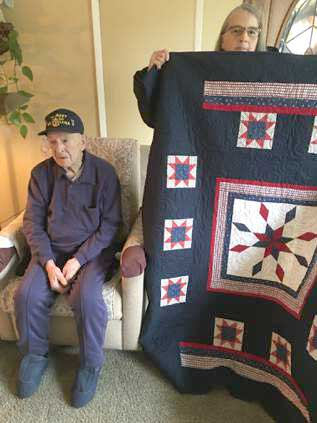 In November, two more of our World War II veteran members were awarded Quilts of Honor, following on the group of four awarded in September.
Edgar Shepherd survived the sinking of the USS Helena in the Battle of Kula Gulf in south Pacific action against the Japanese Imperial Navy in World War II. The light cruiser, which had come through the Pearl Harbor attack, was tasked with protecting other ships in the South Pacific during the Guadalcanal campaign. The Helena went down on July 6, 1943. Nearly 170 crewmen died. Shepherd was part of a group that clung to a life raft.
On the USS Helena, he worked in the plotting room, which included the control system for the guns. He also fought in the battles of Iwo Jima and Okinawa.
After finishing his time at sea, Shepherd helped start a Navy reserve center in Colorado before moving to California to help his uncle open a doughnut shop. He later got a job in Los Angeles at an electrical company where he worked for 24 years. He lives in Edmonds with daughter Paula Kilbourne. Paula once offered to take him whitewater rafting. He turned her down. He had clung to a rubber raft, adrift in dark waters after the USS Helena sank. He wasn't interested in getting on a raft again. Ed celebrated his 101st birthday on July 4, 2019.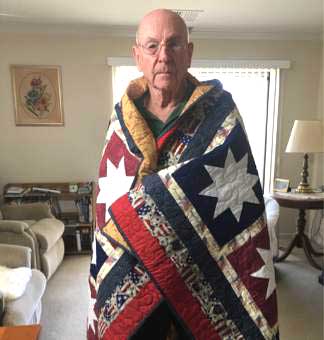 Dan White Enlisted in the Army in 1946, served nearly two years, and was called back in 1950. A retired middle school teacher, White lives in Redmond but spent years in the Edmonds area and remains an active member of Post 8870. In Korea, he flew a modified Cessna called an L-19. His duties involved adjusting artillery. Back home, he and his wife raised four boys. He earned two degrees, stayed in the reserves and retired as a colonel.