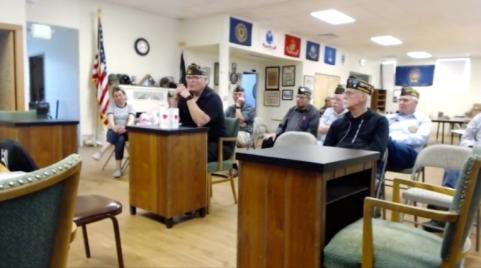 Summary of minutes of September Post Meeting
Guest speaker Dean Olson talked about the need for volunteers to assist people with hearing disabilities at the Edmonds Waterfront Center.
New member Chuck Smith was introduced. Member acceptance was moved by Jim Traner/and 2nd by Duane Bowman & accepted by vote.
Zoom recording of the Post meetings are now available on the post website. Quartermaster's report was reviewed and approved. Members authorized the payment of small outstanding bills.
Senior Vice Commander Duane Bowman led a discussion of upgrades to the display materials for the tables that we use during our fund raising efforts.
Veterans Day Poppy distributions will be held November 4 and 5. Members are urged to sign up early, at the October Post meeting.
District 1 School of Instruction was held on Sept 10, 2022. It as announced that the Community Service Report will be done on an individual member basis, ONLY ON LINE. (Instructions in a separate article in this newsletter.
Don Stapleton will manage the Essay contest.
The Bylaw update is in progress.
Will have a Veterans Day ceremony on 11-11-2022, @ the Veterans Plaza. We need to find a speaker.
It was moved by Brian Rowe & 2nd by Cal Barnard the Post spend approximately $120.00 to get 2 plaques for Rose Gilliland & Dennis Peterson to be awarded for their devotion and hard work that they have given to the Post over the years.
Dean Olson joined us to speak about the need for volunteers to assist people with hearing disabilities at the Edmonds Waterfront Center, one of the many programs offered at the EWC. If you missed his presentation and are interested in this program, contact Olson at [email protected] 
At age 4, Olson began experiencing minor hearing loss that ultimately progressed until — as an adult — he became profoundly deaf, requiring bilateral cochlear implants. Olson serves as president of Washington State Communication Access and was instrumental in getting a Senate bill passed in the State legislature requiring closed-captions on televisions in all places of public accommodation in Washington state – which was unanimously adopted and signed by Gov. Jay Inslee May 10, benefiting people who are hearing impaired.