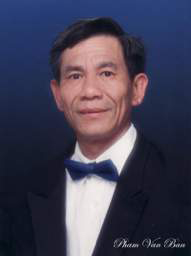 Many of our Post 8870 members are veterans of the Vietnam War and have compelling stories to tell of their time in country.
This month, thanks to a chance meeting with Jim McCann, Jim Murdock and Phil Sacks at the Lynnwood Fred Meyer while distributing poppies, we bring you the story of another sort of Vietnam veteran, one who was fighting for his own country's freedom alongside his American comrades. This is the story of Vincent Pham, an American citizen born in Vietnam.
Born Pham Van Ban on February 1, 1949, in Hai Hung, Vietnam, this man's life has taken him from studies in law as a young man through a military career amidst a war and again into the realm of advanced studies.
After graduating from the University of Vietnam Law School in 1970, he started a military career, first serving as an interpreter for US troops based in Long Binh. Later that year he began Air Force Cadet training and was sent to the United States for flight training. Beginning in July 1974, he served as a fighter pilot in the 4th Air Force Div., Republic of Vietnam Air Force (VNAF).
Downed in combat and captured, First Lieutenant Ban was sent to prison in Kien Giang on May 2, 1975. He suffered many hardships during seven years in prison camps in Vietnam. On May 2, 1982, exactly seven years after the day of his capture, he escaped from Vietnam. He and his family fled by boat to a refugee camp in Thailand. During their escape from Vietnam, his twelve year old son was caught and imprisoned.
Between 1982 and 1984, he worked with the United Nations' Save The Children Foundation in Indonesia. On August 10, 1984, Pham Van Ban and his family came to the United States and settled in Everett, Washington. Pham changed his name to Vincent Pham when he became a United States citizen in 1993.
In the summer 1994, Vincent Pham entered Everett Community College and received an Associate of Sciences Degree in Political Science. He has since continued his education at WWU and UW in political science.
Vincent volunteers with the Red Cross. His volunteer efforts are centered on disaster preparedness for the Vietnamese community in Snohomish County. He has translated into Vietnamese and presented Red Cross materials to more than 100 fellow citizens.