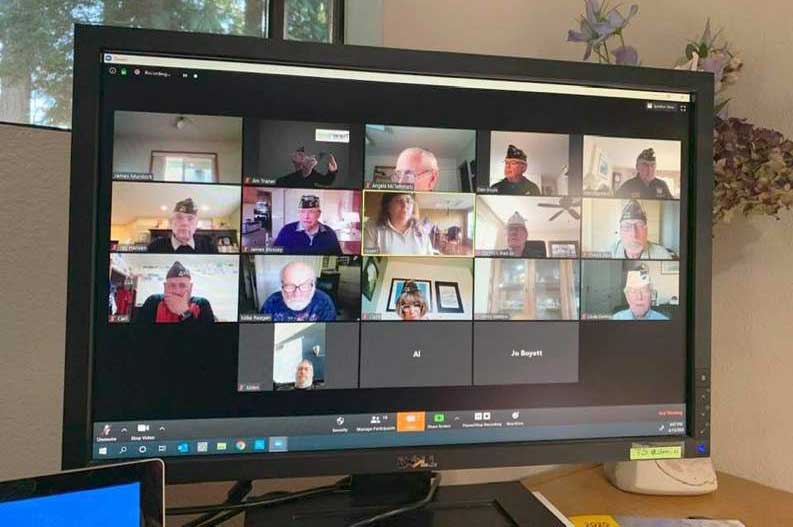 The photo above shows how our post meeting looked last month, and apparently will continue in the foreseeable future, as long as the Covid19 pandemic keeps things shut down. The meeting was held online in the "Zoom" application. Past Commander Jim Traner, who maintains a pro level Zoom account for his business, kindly allowed the use of his account and set the link up for the meeting. The link was then sent out to all members on the email list to allow everyone to join on line. 27 members joined us. (The photo reflects a smaller number and I believe was taken early as members were logging on.)
Elections of officers for the coming year were held, and the slate selected at the April staff meeting (also held in the Zoom format) was proposed and unanimously approved by all in attendance. The only change in officers from last year is Alden Gilliland as our new Post Service officer. Alden is working his way through the Service Officers training materials and is ready to do what he can to help veterans in need.
A proposal to fund the Veterans flagpole and memorial plaque at the new Edmonds Waterfront Center (formerly the South Snohomish County Senior Center) in the amount of $ 2,000.00 from the Post Relief Fund was made with a unanimous favorable vote.
Our usual Memorial Day observance at the cemetery has been cancelled as has our Poppy Drive at the local stores. We are planning a "virtual" poppy drive, using online ads which will be discussed in more detail elsewhere in this newsletter.
We have also learned this week that the annual Edmonds 4th of July parade and fireworks will not be held this year. Crowds at those events approach 20,000, far above the size of gathering permitted under current health guidelines.
We urge all members to log on to the link which will be sent via email for our May 20 meeting. The meeting will start at 6:00 PM , as usual. (p.s., you'll have to make your own dinner.)