The Bedford Boys: One American Town's Ultimate D-Day Sacrifice by Alex Kershaw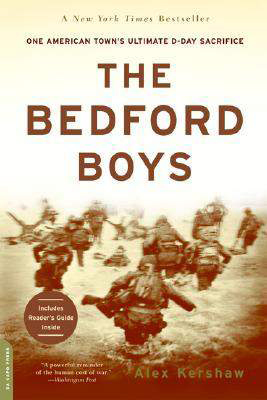 This exhaustively researched book presents readers with a different perspective of the D-Day landing on Normandy. It is a group biography that chronicles life in a small Virginia town prior to, during, and in the aftermath of WW II. At the outset of WW II, Bedford, which was a small town located in the Blue Ridge Mountains of rural Virginia, had a population of nearly 3000 people. Drawing on the information he obtained through interviews with survivors, family members, newspaper articles, letters, and personal diaries, Kershaw tells the story of the sacrifices made by so many of the town's "sons" and how the impact of those deaths forever changed the lives of family and friends who were left behind in the close-knit rural Virginia community.
In the late 1930's and early 1940's, times were hard for those living in rural Virginia. For many of the young men in Bedford, the lure of earning money for their families by volunteering for the National Guard was appealing. When the National Guard was called to active duty at the outset of WW II, 103 Bedford residents went off to serve their country. Thirty four of these young men were still with the Company A, 116th Infantry Battalion, 29th Infantry Division on D-Day. The Company was assigned to the first wave. In compelling detail, Kershaw describes how, within minutes of landing on Omaha Beach, 19 of the Bedford Boys were killed. Subsequent to the invasion, three more boys from Bedford were killed in the Normandy Campaign. The book depicts how these ordinary young men were able to perform extraordinary acts of bravery and self-sacrifice.
One of the most poignant portions of the book is the simultaneous arrival of nine telegrams soon after DDay. Kershaw provides gripping detail regarding the effect of the tragic news on the Bedford community.
Sixty years after the Bedford Boys stormed the beaches at Normandy, the last surviving "boy", Ray Nance, passed away. He had lived his entire life with survivor's guilt. Bedford still grieves. In fitting tribute to the Bedford Boys, their hometown was chosen as the location of the site for the National Guard's National Monument. For anyone with an interest in the history of WW II, this is a must read.
"From the Bookshelf" is a recurring series of book reviews that will appear in the VFW Post #8870 newsletter from time to time. This review was written by Fred Apgar.