WWII Navy Veteran dies at 101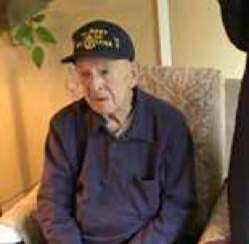 Edmonds VFW Post 8870 lost one of its most senior members when Edgar Shepherd left us on January 27 at his home in Edmonds, surrounded by his family. Born July 4, 1918 in Trafford, PA, Ed celebrated his 101st birthday this past summer. Twice widowed, Ed is Survived by brother Thomas Shepherd, 4 children: 6 grandchildren, 10 great grandchildren and 2 great-great grandchildren.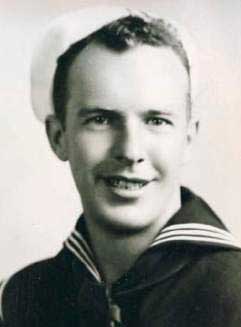 Edgar survived the sinking of USS Helena (CL50) in the Battle of Kula Gulf, July 6, 1943. The light cruiser, which had come through the Pearl Harbor attack, was tasked with protecting other ships during the Guadalcanal campaign. Nearly 170 shipmates perished. Shepherd was part of a group who survived, clinging to a liferaft. He kept a dollar bill signed by the sailors who survived with him. It was one of two bills he had in his pocket at the time. He used the other bill, a five, to pay for telegrams so they could tell their families they were alive.
Ed joined the Navy after the attack on Pearl Harbor in 1941. A Fire Control Technician, he worked in the plotting room, which included the control system for the guns. He also fought in the battles of Iwo Jima and Okinawa aboard USS Louisville, CA28. He was awarded the Navy Commendation Medal for work greatly enhancing the accuracy of the ship's 8" guns.
After finishing his time at sea, he helped start a Navy reserve center in Colorado before moving to California to help his uncle open a doughnut shop. He got a job in Los Angeles at an electrical company
A friend persuaded him to visit Seattle, and Shepherd bought a house in Edmonds where he was living at the time of his death with daughter
Paula Kilbourne. Paula once offered to take him whitewater rafting. He turned her down. She asked if he didn't think she'd be a good guide. That's not it, he told her. He had clung to a rubber raft, adrift in dark waters after the USS Helena sank. He wasn't interested in getting on a raft again. No local services were scheduled. Memorial contribution to Edmonds VFW, Edmonds Senior Center or the Lynnwood Elks are suggested.