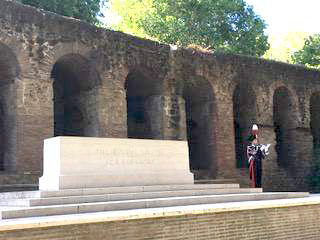 by Pete Farmer
I am living in Rome, Italy for a year. It is a great experience and I thought I would share some that would be of interest to Post 8870 members.
April 25th is ANZAC Day in Australia and New Zealand. It commemorates the landing of the Australia and New Zealand Army Corps at Gallipoli, Turkey on that date 1915. As part of British and Commonwealth ground and Naval forces, the aim was to knock the Ottoman Empire (Turkey), a German ally, out of WWI and provide relief to Russia. The campaign failed and ground forces withdrew after 8 months and with heavy losses on both sides.
Why celebrate a failure? Both Australia and New Zealand were newly independent, but there was no question that they would fight for the mother country on the international stage. Their involvement was a sign of nationalism and ANZAC spirit that had not fully existed earlier. Australians and New Zealanders annually participate in a lottery to attend ceremonies at Gallipoli. I was able to visit the battlefield as part of a tour of Turkey two years ago. It was a moving experience.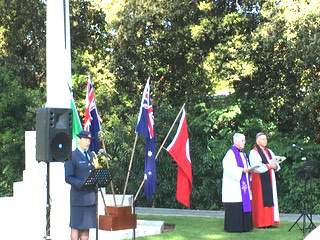 Rome is one of several other sites in the world to have their own ceremonies. The Australian and New Zealand embassies sponsor the event at the Rome War Cemetery. This is a plot of land donated by Italy and contains the graves of 426 Commonwealth veterans of the liberation of Italy in WWII. The ceremony remembers all their veterans. Wreaths are placed by representatives of the Commonwealth and Allied nations and by Turkey.