by Mike Denton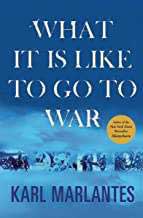 In 1968, at the age of twenty-three, Karl Marlantes was dropped into the highland jungle of Vietnam, an inexperienced lieutenant in command of forty Marines who would live or die by his decisions. In his thirteen-month tour he saw intense combat, killing the enemy and watching friends die. Marlantes survived, but like many of his brothers in arms, he has spent the last forty years dealing with his experiences.
In "What It Is Like to Go to War", Marlantes takes a candid look at these experiences and critically examines how we might better prepare young soldiers for war. In the past, warriors were prepared for battle by ritual, religion, and literature—which also helped bring them home. While contemplating ancient works from Homer to the Mahabharata, Marlantes writes of the daily contradictions modern warriors are subject to, of being haunted by the face of a young North Vietnamese soldier he killed at close quarters, and of how he finally found a way to make peace with his past. Through it all, he demonstrates just how poorly prepared our nineteen-year-old warriors are for the psychological and spiritual aspects of the journey.
This reader found some of his discussions of ritual, religion and literature a bit overstated, but it is clear that these thought processes and his writing (Marlantes has also written novels about the war) have become Marlantes' personal way of dealing with his PTSD, perhaps allowing us to overlook a few excesses here and there. Overall, Marlantes expresses his individual view of war and its impact on young warriors well. This is, for the most part a well written book that might be of value to those who have not served, in understanding the vet's world view.