by Mike Denton
Viet Man by D.S. Lliteras
As a blue water sailor, who never saw anything of Vietnam beyond a view of the Tonkin Gulf coast, your editor is not in a position to assess the accuracy of Lliteras' descriptions, but his book is a gripping novel (if semi-biographical) that I found impossible to put down.
The Following review, found on Lliteras' web site, is by Karen St. John:
"The simple explanation of why Viet Man, the new novel by D.S. Lliteras, should be read is best said by the author himself: "No combat veteran is able to convey to a civilian what it is all about – it's impossible. We remember glimpses of war – punctuated by actual truth. Nobody should want to be more than the truth."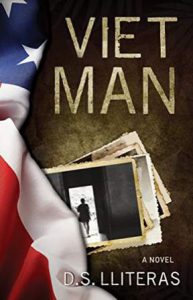 A Vietnam veteran who served as a combat corpsman, Lliteras deftly snaps you to attention in the first paragraph: "You know, when you're running away from a hornet's nest to save yourself, there's no time to ponder the meaning of life." You know the hornet's nest is in Vietnam. What you don't know is that from that point on, Lliteras's ability to paint a visual image, to put a thousand meanings into one succinct and profound turn of a phrase, has you walk alongside him, trying to survive, too. The Vietnam Lliteras effectively sketches for you to see, is not a pleasant one. It's drug-filled, tense, raw, and aching. It's all there to see, but you feel it in your soul.
The book is available online at Amazon.com, in print or Kindle editions and at book stores.
D.S. Lliteras served in Vietnam as a FMF Corpsman and later Combat Diver, a Deep Sea Diving & Salvage Officer in the U.S. Navy, and a professional Firefighter/EMT in the Norfolk (VA) Fire Department. He is a member of the International Association of Fire Fighters, VietNow, Vietnam Veterans of America, The American Legion, The 1st Recon Battalion Association, The Marine Corps League, and The Veterans of Foreign Wars.