Mrs. Devon Ames was nominated by our very own Sara Brannan, herself an elementary teacher. Sara describes Mrs. Ames as an outstanding educator who has demonstrated a sincere commitment to educating children about our American History. She teaches Fifth-Grade at Serene Lake Elementary School in Mukilteo and she has taught American History in her class in a way that has made learning about our country exciting, engaging, and profoundly inspiring for her students. Mrs. Ames has taught units on the American Revolution and Forming a Government for many years, and these lessons have been described as powerful learning opportunities for the students.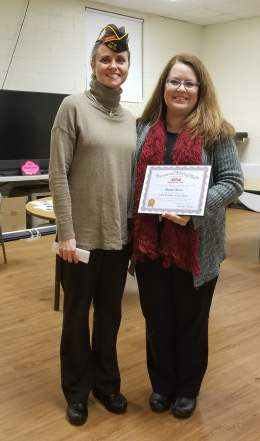 Mrs. Ames has her students memorize part of the Declaration of Independence during her units of study. In addition, she also has her students reflect on their learning about freedom by creating an original art project in which the students create freedom paintings using symbols of America: red, white, and blue, with stars, and an eagle.
Mrs. Ames dedicates much of her own free time reading about American history, studying great works of American literature from that time period, and developing lessons to teach the importance of citizenship in our world. She makes her history lessons come to life through her passion and love for teaching these important ideals to our next generation of citizens. Mrs. Ames loves American history and instills in her students the importance of freedom and democracy.