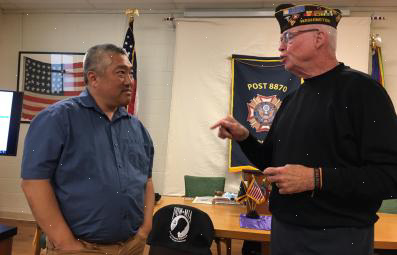 We are having excellent participation in our monthly post meetings of late. In September, sixteen members attended in person plus another six via zoom.
In the photo at left Post Chaplain Dan Doyle is pictured with our speaker, Matthew Durkee, Interim Director, Veteran Resource Ctr, Edmonds College, who gave us an update on the college programs in support of student veterans.
The Legion Hall is rated for considerably more participants (50) than we are seeing, so members can feel comfortable attending in person. Again, masks are optional for vaccinated members.