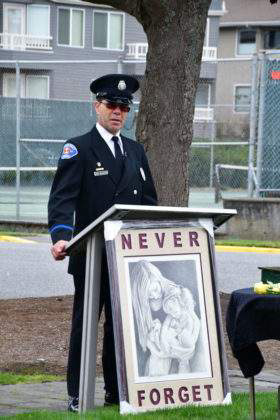 Seventeen years after terrorist attacks leveled the World Trade Center towers in New York City, many came together in downtown Edmonds Tuesday morning, Sept. 11, to remember those who lost their lives that day.
Among the more than 3,000 people who died, were 343 firefighters, 60 police officers, and 10 EMTs. So it was fitting that Tuesday's memorial was held at the 9-11 Memorial, located at the Edmonds Fallen Firefighter Memorial Park next to the downtown fire station.
Master of ceremonies Dave "Bronco" Erickson (shown at left) recounted the heroism of the police and firefighters during that dark day in 2001. Erickson described the Edmonds 9-11 Memorial and what each part represents, including the 1-ton steel I-beam from the wreckage of the World Trade Center which stands as the memorial's centerpiece. Two stainless steel and glass panels symbolize the twin towers with 3,000 individual glass facets honoring the 3,000 who died that day.
The grassy area represents the field where the heroes on United Airlines Flight 93 crashed after thwarting hijackers. The Pentagon shape of the concrete represents the Pentagon, also struck by a hijacked plane. (That crash took the life of Sgt. Major Larry Strickland, an Edmonds High School graduate, as he was working at the Pentagon.) Firefighters added a plaque to the park's Fallen Firefighters Memorial in honor of Walter "Duffy" Burns, a firefighter/paramedic with South County Fire, who died June 11. VFW Post 8870 members joined the Fire, Police and members of the public in attendance.
Article excerpted in part from MyEdmondsNews.com Photos by Julia Wiese