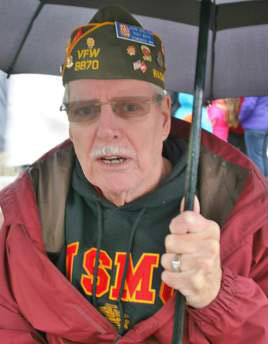 In the November 16th issue of the Edmonds Beacon, the photo at left and a story about John Shelton's Vietnam War experience appeared, which read in part: 
"Sometimes, amid the red, white and blue celebration of soldiers on Veterans Day, we can forget what many of these grizzled old men actually did. 
They killed. Many vets are used to the first questions lobbed their way – How many people did you kill in the war? Most don't want to talk about that. Then there's Shelton, a Marine sent to Vietnam in 1959 before, he said, "they even knew there was a war." Shelton was a sniper. He was 19. When it was all over, Shelton said he had 78 confirmed kills in the Vietnam War. " 
Post 8870 Past Commander Jim Blossey feels that the Beacon story emphasizes the wrong aspect of the job of a Marine sniper and submits the following to corrects the record:

We are very grateful to editor Brian Soergel and the Edmonds Beacon for all the thoughtful coverage they give to our local VFW veterans and military veterans in general.
The Veterans Day just past provides a good example. While we held a brief ceremony at the new Edmonds Veterans Plaza, editor Soergel was standing in the crowd during a sopping November rainstorm. He interviewed one of our more active members, took a nice photo of him and placed them both on the front page of his paper. We are very grateful.
But at this point there is an important note that needs to be made.
The veteran he interviewed, John Shelton, was severely wounded in Vietnam and has been confined to wheelchair ever since. John was a Marine Corps sniper and he was very good at his job. 
No one wants to kill another human being—not unless they are some sort of a psychopath—and you won't find many of those people qualifying for today's military. War is and always has been a dirty, messy, and highly undesirable job. It is not a game; it is not a matter of who has the highest score; it is a matter of who survives.
In the American military, soldiers go about their deadly job while trying to avoid being killed themselves. Sometimes even more importantly they do everything in their power to protect their comrades and buddies from being killed.
That is the job of the sniper—to prevent the enemy from killing or injuring your friends. Which brings us back to the killing question. What should be asked of a combat sniper is not how many people he has killed but how many lives have been saved by neutralizing an adversary intent upon killing your comrades.
The number of lives saved is, unfortunately, a question that no one can answer. In John Shelton's case they must have numbered in the hundreds, perhaps even the thousands. His job was to eliminate threats to his comrades. His weapon and his skills were tools that he was able to utilize to protect those comrades. John and others like him are not life takers, they are life savers.
As a postscript, John Shelton, prior to entering the Marines, was a star high school running back with a four-year scholarship to UCLA. Instead he chose to serve his country, was sent to Vietnam and wound up in a wheelchair for the rest of his life. There would be no football career for John, but he still had his scholarship. So he went to UCLA and four years later emerged with a baccalaureate degree in psychology. He went on to earn a masters degree and ultimately a PhD in behavioral psychology and became Dr. John Shelton. He had a long and successful practice ministering to thousands of patients and, undoubtedly, saving many more lives.
So again, on behalf of Edmonds Post 8870 of the Veterans of Foreign Wars of the United States, I would like to thank Brian Soergel and the Edmonds Beacon for their continued coverage. And, personally, I would like to thank Dr. John Shelton for his service to our nation. May you always be remembered as one who saved lives…on the battlefield and at home.
James Blossey Past Commander