State Grant Funds Awarded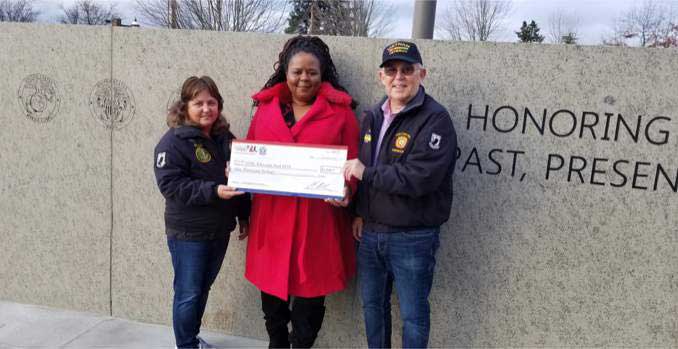 We continue to raise funds for the ongoing maintenance and improvement of the Edmonds Veterans Plaza. Shown below are Commander Rose Gilliland and Past Commander Jim Traner being presented with a check for $ 1,000 from a representative of the Governor's Veterans Affairs Advisory Committee. This grant money is raised through the sale of Veterans Remembrance Emblems. The emblems include campaign ribbons or military awards, and are stickers that can be placed on Washington license plates. This grant is the result of an application made by Maria Montalvo of the EVP Committee.
The VAAC is authorized to disperse funds for projects that pay tribute to living and deceased veterans.
The VAAC Operates with the motto of No Veteran Forgotten, and serves in an advisory capacity to the Governor and the Director of the Washington State Department of Veterans Affairs.