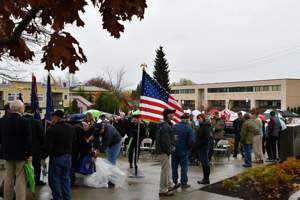 The on-again-off-again rain did little to dampen the spirits of the estimated 125 veterans, families, dignitaries and citizens who showed up for the first of what will be many Veterans Day observances at the new Edmonds Veterans Memorial Plaza.
Speaking from under an umbrella, VFW Post 8870 Post Commander Mike Denton welcomed the audience, reminding them of the significance of what we now call Veterans Day.
"It was at 11 a.m. on the 11th day of the 11th month that the guns of World War I fell silent in accord with the terms of the armistice signed by all parties to the conflict," he said. "Originally called Armistice Day, the name was subsequently changed and the significance of the day expanded to honor all U.S. veterans who have fought for our country."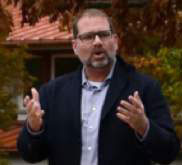 State Rep. Strom Peterson spoke next. "Today, Veterans Day goes beyond honoring those who've served," he said. "It is also a call to action to take care of our veterans from all conflicts, past, present and future. Today we not only honor their service, but commit to protecting and caring for them."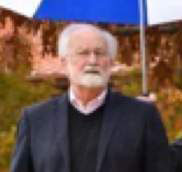 Mayor Dave Earling reminded the audience of the significance of the new Veterans Plaza. "This amazing new space is many things for our community," he said. "First and foremost, it honors those who have served. But beyond that it is a gathering place where the community comes together and connects with one another, allowing us to collectively remember and share."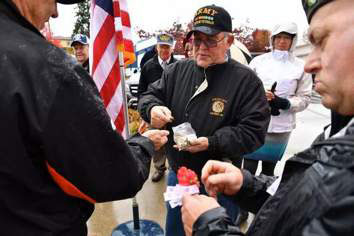 At left, Past Post & District Commander Jim Traner, and Sr Vice Commander Carl Kurfess present Vietnam Commemorative pins to Vietnam Vets. 
— Story and photos by Larry Vogel, MyEdmondsNews.com