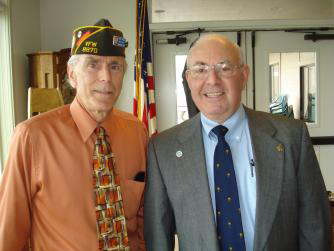 On the morning of 22 November 1966, 1st Lt. Joe Crecca (call sign Dogwood 2)was scheduled to fly his 87th combat mission. Joe was the back-seater of an F-4E Phantom and while striking a POL storage facility in Ha Gia, North Vietnam, his plane was shot down by an SA-2 missile. The pilot, 1st Lt. Gordon Wilson, was killed upon impact, but Joe successfully ejected and was immediately captured upon landing on the ground.For the next 2,280 days, Joe was held any the infamous Hoa Lo Prison (Hanoi Hilton) in Hanoi, North Vietnam. 
We met Joe several year ago, when he visited VFW Post. (Joe is shown at left with Past Commander Fred Apgar at that meeting) Crecca described the beatings and torture he experienced at the hands of his North Vietnamese captors in detail and the harsh conditions and meager rations, often spoiled and infested with insects. Crecca played a pivotal role in our country's accounting of the Americans who had been held in captivity. While a POW, Joe memorized the names of over 700 of his fellow POW's and was able to provide a comprehensive list upon his release. By the time of his repatriation on 18 February 1973, Joe had been promoted to the rank of Major, and he remained in the Air Force for another five years. For the next 27 years, Joe was a pilot for Flying Tigers and its successor, Federal Express. Joe and his wife, Joan, who hails from Liverpool, England, reside in North Bend, Washington.
Many thanks to Fred for reminding us of Major Crecca and all of our POW/MIA comrades.