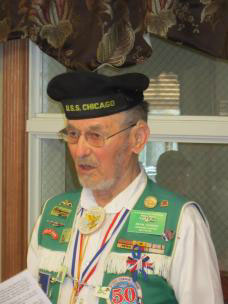 Memories of Erv Schmidt 
by Fred Apgar 
Eighty years ago, on December 7, 1941, the Empire of Japan declared war on the United States attacking the US Naval Base at Pearl Harbor. Ervin Schmidt, a highly decorated Naval veteran and member of the Post #8870 for over 70 years, enlisted in the Navy in August of 1940. Assigned to the battleship USS California, found himself in what was known as "battleship row" at Pearl Harbor, on that fateful day. When the Japanese attack on Pearl Harbor occurred, Erv was asleep in his bunk several levels below the main deck. When the first of two torpedoes struck the California, one of Erv's bunk mates was killed instantly. Dazed by the attack, Erv and several of his shipmates tried to make their way to their battle stations but were overcome by smoke and fumes on the second deck. They survived only because others carried them to the main deck. After a second torpedo struck, the ship began to list and the Captain issued the order to abandon ship.
Erv chose to remain on the ship with three others, since they could not swim. They manned a 50 cal. anti-aircraft gun to fire at the attacking Japanese planes. Of the 1500 USS California crew, over 200 were killed in the attack.
Three days after the attack, Erv was reassigned to a heavy cruiser, the USS Chicago. For the next year, the Chicago engaged the enemy in the Battles of Coral Sea and Solomon Islands. On January 29, 1943, the Chicago sustained severe battle damage and once again, Erv heard the command to abandon ship. Erv then volunteered for submarine duty, first serving as a radio and sonar operator on the USS Saury and later on the USS Torsk.
During his numerous patrols on the Saury and Torsk, more than 20 Japanese ships were sunk, and Erv and his crewmates survived numerous d epth charge attacks and a ramming by a Japanese light cruiser. On August 11 and then on August 13, 1945, while operating the Sea of Japan, the Torsk sank two Japanese Naval ships, which were the last two ships sunk by the US Navy in World War II. Erv held the distinction of serving in combat at the outset of WW II in the Pacific and during the last naval action of WW II; the only person to claim that distinction. He passed away one month after celebrating his 98th birthday, on February 10, 2014.