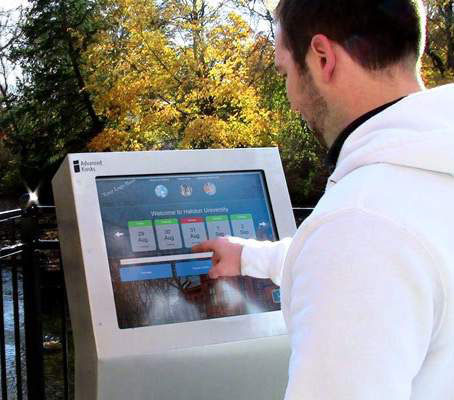 One of the final items for the Edmonds Veterans Plaza, the new information kiosk is now on order, the deposit having been sent to the vendor, Advanced Kiosks, on August 11.
The kiosk will be located near the top of the path made of pavers honoring individual veterans and we hope to have it set up and running well before Veterans Day.
There are a variety of kinds of information that can be provided, all from online "cloud" access and include a link to WAServes ( https://washington.americaserves.org/) an online service set up to help veterans access services and information. We have provided this link before in this newsletter. If you have not done so. the above link will take you there.
The vendor will also provide software to allow us to set up a directory to guide visitors to each of the points in the Plaza bearing any particular veterans' name and service information. It will take some time to organize and enter all of that information.
There will be ongoing maintenance required in both hardware and software, for which we have reserves in the Edmond Veterans Plaza fund, to help the city keep the Plaza current and well preserved.
At the July Post meeting, Jim Traner, who is a member of the Plaza Committee and one of the original organizers of the project, went over much of the details and a vote was taken to complete this part of the project.
Our thanks go out to Comrade Traner, Ron Clyborne and Bob Reinhart, who drove this portion of the project.