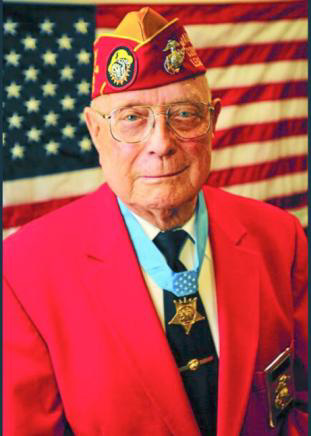 The VFW is mourning the loss of the last living WWII Medal of Honor recipient Hershel "Woody" Williams, who passed away at the age of 98. After WWII, he continued to serve the veteran community through his work at VA, his nonprofit the Woody Williams Foundation, and his tireless advocacy efforts for Gold Star families. Williams was a Gold Legacy member of VFW Post 7048, which bears his name, located in Fairmont, West Virginia. "
On behalf of the entire 1.5 million-member VFW family, our deepest condolences go out to Woody's entire family, and we salute one of the last greatest of the 'Greatest Generation,'" said VFW National Commander Matthew "Fritz" Mihelcic.
The youngest of 11 children, Woody was born on a dairy farm in Quiet Dell, West Virginia, on October 2, 1923. He continueg to serve following WWII and retired from the Marine Corps after 17 years of service, with the rank of Chief Warrant Officer 4.
During WWII, Woody served in New Caledonia, Guadalcanal, and Guam before landing in Iwo Jima where his "valiant devotion to duty" earned him the Medal of Honor. It was presented to him by President Harry Truman in a ceremony at the White House on October 5, 1945.