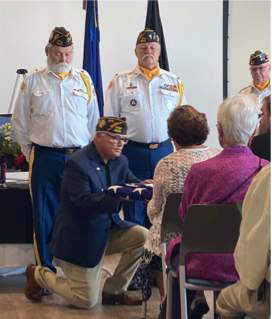 A memorial service was held on August 20 for Comrade Traner at the  Edmonds Waterfront Center with a large group in attendance to remember Jim and support Terry and her family. Friends from Jim's many affiliations around the Edmonds area, including representatives from VFW Post 8870, District 1 and Department, as well as many Rotarians and fellow fly fishers, were in attendance.  
On July 29 he was interred in ceremonies at Mt. Tahoma National cemetery.   
At top left, Commander Duane Bowman presents the flag  to Terry Traner at the memorial service and at bottom, members of VFW are present.