Earlier this year, we reported on the anonymous donation of funds to be used for an additional sculpture to augment the existing art at the Plaza. The EVP Committee has been hard at work looking at proposals from local artists and working with the city to chooses a piece that would be appropriate to the space and acceptable to the Post, the Edmonds Arts Commission and the Edmonds Parks department.
Ron Clyborne plans to present a proposed design at the July Post meeting on the 21st of this month, . The piece would be a metal (bronze or aluminum) sculpture intended to specifically honor the names listed on the KIA wall at the plaza. A two dimensional image of the design and its proposed placement appears in the photo below, as presented to the EVP Committee and the Command staff recently.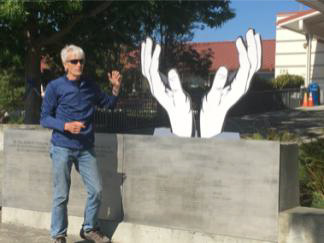 Edmonds sculptor David Varnau, the artist proposing this design, which he has entitled "A Gift of Freedom", is inspired by the Franklin Roosevelt quote that appears at the top of the KIA wall. (Shown below)
Varnau is well known for public art installations in downtown Edmonds, particularly two sculptures in front of the Windermere building on 5th Ave and another next To WA-Fed Bank at 3rd and Main. His art career follows an earlier long career in the design and production of prosthetics, which gives him considerable insight into the human form.
This proposal is, of course, subject to the approval of the various City of Edmonds entities charged with oversight of public works.
The KIA wall displays the names of 91 service members from our Edmonds area who were killed in action in World Wars I and II, Korea, Vietnam and the Gulf and Post 9/11 actions. Many of those named are also honored elsewhere in the Plaza with various memorial pieces.