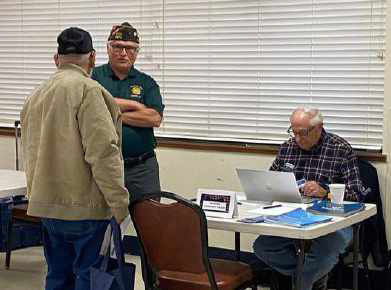 The Stand-Down was held on 9/5/2023 from 9:00 AM to 3 :00 PM. There were approximately 60 different service providers available to Veterans, ranging from Legal services, Gear Issue, VA giving Flu shots and signing up Veterans to the VA. Food was provided by the Elks of Everett. Various Military providers were available including VFW. DAV and American Legion. VOA provided eye and hearing tests and reader glasses.
Representatives from all 8 posts in VFW District 1 were there. Edmonds was represented by Commander Duane Bowman and Jr. Vice Commander Carl Kurfess & Dennis Gibbs.

In the photo above, Commander Duane speaks with a veteran with Dennis Gibbs in the background. At right, Carl Kurfess is shown with District 1 Commander Terry Stinson and other District 1 VFW representatives.