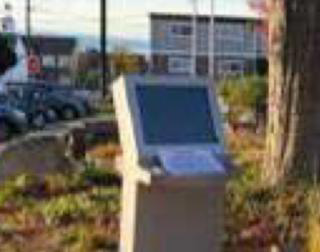 We would like to complete the Information Kiosk at the Edmonds Veterans Plaza by inputting data for each dedicated veteran. We created Online Forms for this purpose. Please help us!
If you have purchased any of the several types of memorial spaces in the plaza for either yourself or other veterans, living or deceased, please select one of the Forms below and use its link to enter requested data for each honoree.
The Edmonds Veterans Plaza Kiosk team is happy to announce that the kiosk is now loaded with the veterans' basic information excerpted from the memorialized pavers and benches. Some of the veterans dedicated also have provided additional information and photos. You can go to the plaza and check out to see if you, your friend or family member is showing up. The Memorial ID and the map on the screen can help users to locate their pavers, etc.
The team will continue the effort to add more information and edit if needed. Please see the online version of the kiosk here (In other words, you can do the checking from your home remotely, too!): http://tribute-kiosk-software.com/edmonds/ 
You are welcome to complete one of the forms below. Or send the veterans' information and photos to evpkiosk@gmail.com. Also use the same email to correct the existing information on the kiosk. See the form below for what types of information we can use. Although ideal, it doesn't have to be complete. Please use this format and save the committee the effort of following up with you individually! 
Please select one of the Forms below and use its link.
Form A: For those who have a Google account**. Only Google account holders can upload photos directly from the form. Prepare the photos (Read Photo Specification*) and start the form below. —> https://forms.gle/HXNLN8AoGuJWtW4G7 

Form B: For those who do not wish to have a Google account. We will send a separate email requesting photos later. Please go ahead and fill the form below. —> https://forms.gle/1iqMkSoaPUHfzo8H9 
Either way, you will be requested (but not required) to provide up to 2 photos. *Photo specification: Ideally optimized for 400w X 500h in pixels at 72 DPI and JPG (.jpg) format is preferred (up to 10 MB per photo in size allowed). You may want to start preparing them before you start filling the form. If you do not know how to do this, do not worry but go ahead and upload photos as they are.
** To create free Google account: (If you use Gmail or Google Calendar, you already have a Google account.) You can create it by visiting: https://support.google.com/mail/answer/56256?hl=en)