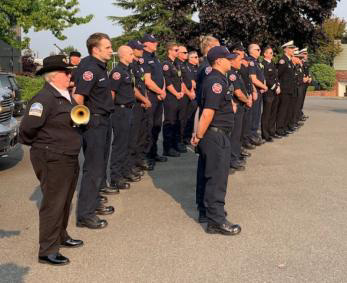 Several members of Post 8870 attended the South County Fire Department's annual observance of the 9/11 tragedy, held at the 9/11 Memorial on 6th Avenue, including Commander Carl Kurfuss, Quartermaster Jim Traner and resident artist Mike Reagan.
The event was hosted by retired Edmonds Fire Fighter Bronco Erickson, who was instrumental in the acquiring of the tower remnants used to create the memorial.
At this year's event, with the consent of Erickson, Vietnam Marine Veteran Jim Curtis, who started a Karate Studio a number of years ago, presented Reagan with a 10th Degree Black Belt. The Belt says "Umibushi" on it (apparently this translates to; "Warrior of the Sea." )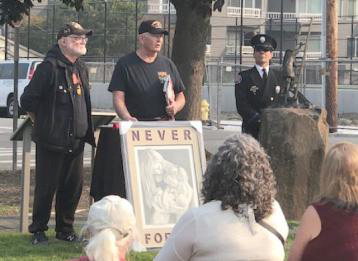 He included with it a 50th Anniversary book on Vietnam, "A Time To Honor", inscribed: "This is to confirm that Marine Corps Combat Veteran Michael Reagan has been Awarded the title of, Dai Shihan and the rank of Ju-Dan in the Martial Art of Umibushi Goshin Jutsu".
If you have never attended one of these 9/11 events, consider it for next year. They are very moving occasions.