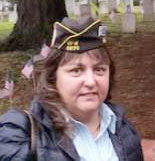 Our incoming Commander, Rose Gilliland seems to be a bit camera shy, despite being one of the more active members of our post for quite some time, but we were able to dredge up this pic of her from the presentation of a donation to one of our veterans homes in 2016.
For the past several years, she has been a valued member of our Relief Committee, our Jr. Vice Commander and a faithful distributor of poppies as well as just about everything else we do.
An Army Veteran of Desert Storm, she joined the Army in 1986 was stationed with B Co. 3/9th Aviation Regiment, Ft. Lewis, Wa. In 1989 she was sent to Korea to join 2nd Battalion 501st Avn Regiment at. Camp Humphreys. Having left active service in 1990 Rose was recalled for Desert Storm in 1991, again with B Co. 3/9th Aviation Regiment at Ft. Lewis. Rose lives and works in Mukilteo.
She will be installed as Commander in ceremonies at the May Post meeting.