by Fred Apgar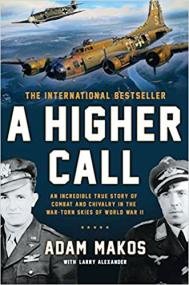 A Higher Call
By Adam Makos and Larry Alexander
Set during World War II, the book, A Higher Call, tells the remarkable story of two highly skilled pilots, warriors from different worlds, one German, one American, who meet in the skies over Europe.
Five days before Christmas 1943, 2nd Lt. Charles Brown and his ten-man crew encountered German fighter aircraft on their way to a bombing mission over Bremen, Germany. Despite sustaining damage to the their B-17 bomber, the crew of Ye Olde Pub successfully delivered its bomb load, after which Brown headed for home. Flying at an altitude of close to 30,000 feet, Lt. Brown's aircraft was subjected to intense anti-aircraft artillery fire and then, attacked by more than 15 German fighters, sustaining serious damage. All alone, the crippled B-17 was flying deeper into enemy territory instead of heading to its home base in England.
Having just landed to refuel his Me-109, German ACE Franz Stigler observed the crippled B-17 fly over the German airfield. He took off in pursuit, intent on adding to his number of kills. As Stigler approached the aircraft, he was stunned by what he saw. He observed the body of the dead tail gunner and the bewildered looks of the men as they tended to the wounds of the other crewmen. Despite having the ability to do so, Stigler could not bring himself to destroy a helpless adversary. For almost ten minutes, the German pilot flew in formation with the Flying Fortress, waving at Brown to change his heading 180 degrees, and escorting him over deadly coastal AAA batteries.
It took 46 years, for Brown and Stigler to find one another. A bond immediately formed between the two pilots, and during their remaining years, they toured the country attending and speaking at Air Force reunions.