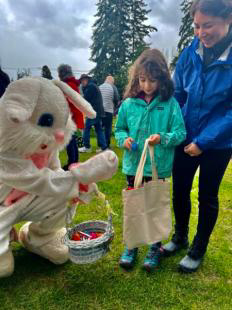 At the March Post meeting, Quartermaster Jim Traner put out a call for volunteers to help the Rotary Club of Edmonds Daybreakers in putting on the club's annual Easter Egg Hunt at Frances Anderson Playfield. Traner, as well as several others of our Post, is also a member of the Daybreakers Rotary. 
On Saturday, April 8, Commander Carl Kurfess and House Committee Chair Parnia Parvini, joined Past Commander Mike Denton to support this event. (Jim Traner was on the sick list that day.)
Plenty of candy and prizes were collected by three age groups of children on Saturday, April 8.
The Easter Bunny joined the festivities as well! (Photo courtesy MyEdmondsNews)