by Fred Apgar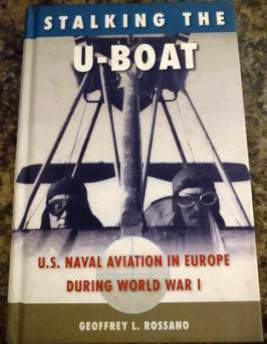 Stalking The U-Boat: U.S. Naval Aviation in Europe During World War I
Geoffrey L. Rossano 
Stalking The U-Boat provides a comprehensive view of the abrupt and rapid creation of Naval Aviation during World War I and fascinating insight into its day-to-day operations. The author, who died in July 2021, had been a history professor at the Salisbury School.
Readers are taken on a discussion of wide-ranging topics that include the planning and construction of a series of Naval patrol bases in Europe, the aircraft used for anti-submarine missions, daily operations and life on the Naval bases, and the Navy's attempt to establish a lighter than air (LTA) capability. Thanks to our military's obsession with maintaining meticulous records, even about the most mundane of details, Rossano provides readers with a trove of information and details, which all make for a fascinating read.
Once civilian and military leaders made the decision to establish a Naval Aviation presence in Europe, it fell upon a junior officer, Lt. Kenneth Whiting, to command the First Aeronautic Detachment. Whiting, with an expeditionary force of 7 officers and 122 enlisted men arrived in Europe in June 1917. Overcoming immense challenges, the expeditionary force eventually grew to more than 850 officers and 6,000 enlisted. Ultimately, the Navy conducted flight operations from 27 Naval Air Stations that had been constructed in the British Isles, France, and Italy.
The network of Navy coastal patrol stations was designed to protect American war ships and convoys from attack by German submarines. Initial flights of Naval aircraft commenced in late September 1917, an incredible accomplishment since Lt. Whiting and his staff had arrived in Europe only three months previously.
Rossano provides a discussion about each of the patrol stations and furnishes incredible detail regarding each station's; construction, personnel, number and type of aircraft, training regimens, flight operations, number of sorties and distances flown, and injuries and deaths as a result of accidents and enemy action. Rossano concludes that, ultimately, the remarkable establishment of a Naval aviation presence in Europe did not shorten WW I, it did, however, succeed in creating the concept of Naval aviation as a military force that would reach full maturity during WW II. A group of heroes emerged from the war as did a powerful vision for the future of Naval Aviation.