On Friday evening, Sept. 15, thanks to the efforts of members of the Edmonds Veterans Plaza Committee, an observance was held to honor POWs, MIAs and Vietnam Veterans at the Plaza.
Three excellent speakers highlighted each of those groups of Veterans.
POWs:
Joe Crecca, a USAF aviator and resident of the infamous "Hanoi HIlton" represented the Prisoners of War. Joe, who has spoken at a Post meeting in the past, described in detail his experience from the shoot down of his aircraft, through the long tortuous years in Hanoi to his release and return to "the World" at the end of US participation in the war.
MIAs:
Our own Mike Reagan followed honoring James Moreland, an Army Special Forces medic, who was listed as MIA for many years, but whose remains were finally found and brought home for burial. Mike presented one of his special "Fallen Hero" portraits of James to his sister Linda Moreland Brown of Yelm and to Kathy Strong, of Walnut Creek, CA, who wore Moreland's MIA bracelet for the entire 38 years he was missing. Strong attended Moreland's funeral, and left the MIA bracelet pinned to his uniform for burial. .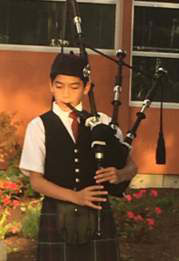 Thanks to Hugo Mackay (pictured at left) on the bagpipes and the talents of buglers Chris Edwards and Debbie Dawson, the event was opened with the music of the pipes and ended with the stirring echo version of Taps provided by our buglers. Chris Edwards and Debbie Dawson. Chris also arrangeded and led the Washington National Guard color guard to provide the opening flag ceremonies.
Vietnam Veterans:
Post 8870 Chaplain Dan Doyle, a USN Corpsman attached to the Fleet Marine Force, who served with the Marines at the infamous Khe San siege, followed Mike. Both Mike and Dan spoke movingly of their experiences in Vietnam and represented the Vietnam Veterans being honored for the 50th Anniversary of the Vietnam War.
Following our speaker's presentations, three Gold Star Mothers assisted Post leadership in awarding 50th Anniversary Vietnam Veteran lapel pins to each of the large number of Veterans of that conflict who were present.
Welcome home Brothers, welcome home.