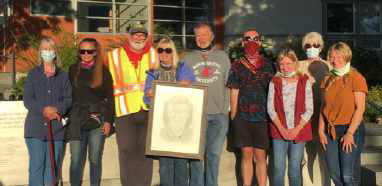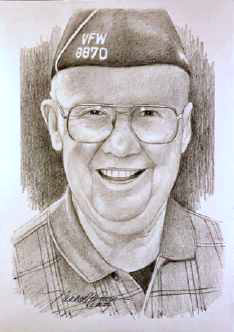 In this age of the Covid pandemic (six months into it as this is written) gatherings of friends and comrades have been pushed aside. Post meetings are held "virtually" over Zoom, social gatherings of any size cancelled and even proper farewells to our fallen comrades are being "postponed", pretty much indefinitely. It is difficult not having the opportunity to say goodbye in the long established ceremonies of our social order, religious or otherwise.
One thing that goes on is our Post's resident sketch artist Mike Reagan's effort to remember each and everyone of our comrades in portrait sketches, most recently those of Buck Weaver and Amos Chapman, two much loved members of VFW Post 8870.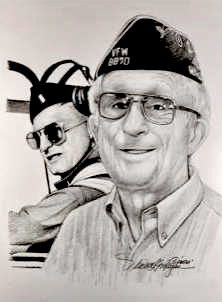 Recently, Reagan, along with Post Commander Rose Gilliland, has arranged small, properly masked and socially distanced, gatherings of Post and family members to present Reagan's sketches of our lost comrades to their families. The photos included here show these presentations to the Weaver and Chapman families held recently at the Edmonds Veterans Plaza. What better use for this space that our members worked so hard to see built.
No doubt we all agree that these brief, informal remembrances are a grossly inadequate farewell to our comrades. Once we are able to gather in greater numbers, we must see that they are bid a proper goodbye, each according to his own traditions. We know our Honor Guard is anxiously awaiting that opportunity.