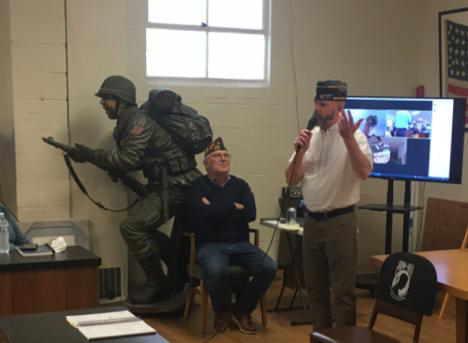 Following yet another excellent meal put together by our favorite USN culinary expert, Parnia Parvini, Jim Armstrong, one of our newer members, was our speaker. 
Jim gave us an overview of his service in Iraq and Afghanistan, as an NCO of a bridge building engineer unit. It is always interesting to hear of the experience of veterans who served in different capacities, times and places from our own.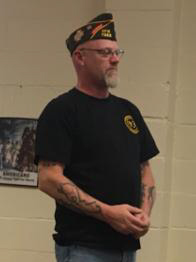 At this meeting we welcomed a new transfer member, Navy veteran Jeff McKinney. McKinney recently moved here from Pennsylvania. Welcome aboard Jeff! 
Election of Post Officers 
Nominations will be taken from the membership present and elections held for Post Officers for the 2023-24 VFW year at the April Post Meeting.
In other news:
We are working on the details for the proposed raffle of one of Mike Reagan's signed celebrity portraits as a fundraiser for the post. We anticipate that the raffle will be held and the prize awarded at the annual Christmas party in December. Details such as the timing of ticket sales and how best to promote it are under discussion.
We will have beach clean-up event on Saturday May 6 as our contribution to the VFW National Service dayof Service. The plan is to meet on the Edmonds waterfront @ 9 AM.
The new MIA/KIA banner "proofs" have been approved by Jim Traner. We expect to have them available for Memorial Day.
The Memorial Day Ceremony at the Edmonds Memorial Cemetery will recognize all Purple Heart Recipients.
A "Heroes in the Ball Park" event is scheduled in Tacoma later this spring. Anyone who is interested can contact Carl Kurfess for details.